The London Mouse is a newspaper.
Description
Edit
The London Mouse seems to be a rodent equivalent of the human London Times.
Known Issues
Edit
Queen's Jubilee TomorrowEdit
The first copy we saw was one owned by 
Professor Padraic Ratigan
, issued on the day before
Queen Moustoria
's Diamong Jubilee. We only see the title page; with the 
London Mouse
 logo, the headline
Queen's Jubilee Tomorrow
in larger font than the logo, and the title subject in three columns, the middle column being introduced by a picture. Strangely, neither the date of the paper, nor its number, are indicated underneath the logo.
Queen Honours Detective (?)Edit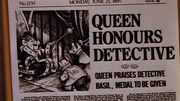 Another newspaper is later seen, with
Queen Honours Detective
as its headline. Whether it is a
London Mouse
is unknown, though likely. This time, the number (No. 1234) and the date (MONDAY, JUNE 21, 1897) are clearly seen, but the spot of the logo is cropped by the frame, stopping us from seeing it. Underneath the Number and Date are, on the left, a picture of Queen Moustoria honoring Basil in presence of Dawson; on the right is the headline. Under this, the text itself is on three columns.
Though the headlines and pictures of both issues were fictional, the text itself was apparently recycled from contemporary issues of the real-life Times. The text of the first copy is thus a report of Queen Victoria's real Dimaong jubilee. The text can actually be read if one pauses the film at the right moment. Though most seems to fit with what Queen Moustoria could do on that day, it cannot actually be the real in-universe text, since it refers to the jubilee as a past event. The text of the second issue is an irrelevant text that has nothing to do with the honoring of a detective and depicts the introducing of foreign royalties to the real Queen.
In the comics, a Rodent Times appears in place of the London Mouse.